Halloween approaches; The pumpkins await to be carved... but who will save Halloween from a treacherous villain?
Trever the Treacherous was last seen falling into the burning hot lava rivers of Mustafar, trying to steal the Force of July and the Ultimate Sparklers. Just recently, he was spotted on Felucia- well, most of him. Nontheless, being alive, Trever would have only returned to steal the Magic Pumpkins of Halloween!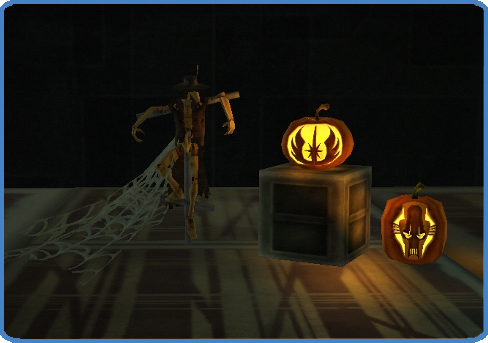 Halloween Party
Super Troopers will be having a Halloween Party on October 31st, 2013! Anyone not in the squad may join in, too!
Where
The party will be at Blaster Niceshot's Coruscant Luxury Chambers.
When
The party will be on October 31st, 2013 at 5:00 P.M. EST. Convert this time
Other
Costumes are encouraged! Feel free to wear your in-game Halloween costume, but they will not be voted on/be winning. Some Super Troopers may prefer to use squad chat, therefore some people may not be able to see all messages, but the main chat will be held in world chat.